By Steve and Melasande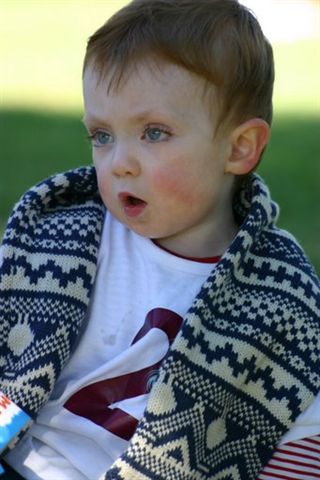 I guess our first year of life with little James was a series of what we saw as only 'coincidences' of just small little issues. First he was in a harness, then a hip spica, some feeding problems, lots of physio and delayed milestones…..but it wasn't until just after his first birthday that we were advised to see a Geneticist.
Why would we need to do that we thought! Our Geneticist was very kind man who was quite certain at our first meeting that James was a Kabuki baby, with characteristics including hypotonia, high arched palate, distinctive facial features, finger pads and developmental delay.
So like probably everyone else reading this, we left that appointment, completely shattered, felt sorry for ourselves and more for little James, went home and cried for a month ………… then after the initial shock wore off we realized that being diagnosed with a 'syndrome' doesn't really change anything.
We are blessed to have such a beautiful little boy, who is just so full of life, so loved and friendly toeveryone he comes across; he is the one that brings joy to others. Life is just the same as it was prediagnosis, and that we just need to concentrate on his abilities as opposed to any 'disability' and welcome all the therapy and early intervention that we have available. We decided that if we stay down in the dumps and treating James "different' that it's not really helping any of us. Especially James.
James now enjoys a mixture of activities such as music classes, Montessori, and also some special needs activities such as our communication group, physio, speech therapy and early learning programme.
Yes he is a very busy little fellow! But one of his most beautiful traits is his social skills and enjoyment of being around other kids and people. So while he is stimulated by all this stuff we will keep going with as much as he enjoys doing.
We have found a great deal of comfort by reading your other individual stories on the SAKKS website, and really appreciate all the work and research that goes into it for our benefit. We are certainly a special group of people, who have all found sharing Kabuki Syndrome can actually enrich our lives more than we could have ever thought.
Thank youSteve and Melasande