By Annelore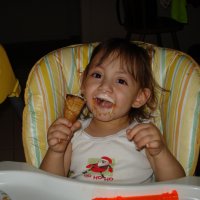 I had wonderful pregnancy, and worked up until 38.5 weeks. The labour was a different story though. Since my pregnancy was so perfect I decided to go through the birthing centre; all natural.
I was 2 days over due when I started contractions 30 15 mins apart, but I was only dilated 4cm so was sent home. Over the next 7 days I went back & forth asking for help, sleep...induce me!!!!! anything, finally they manually broke my waters, and Allegra was born within 45 minutes.
I was surprised because she was so tiny for a baby who was born nine days over due. They discovered her sugar levels were extremely low. She was then sent to the special nursery.
It was then we all realised that Allegra had more problems. Her face, feet, and hands were all squashed and she was missing a toe. Allegra had abnormal hips, very large breast tissue and a high arched pallet. These were only some of the first issues we came across.
Since then, Allegra has suffered from severe ear infections, constipation (where she has had a prolapsed bowel), she has major global delays including her growth and learning development, she also has hypothyroid disease to name just a few.
Allegra still has a number of tests and operations to come, but knowing why and knowing that there is help and others out there has made it allot easier to understand.