By Karina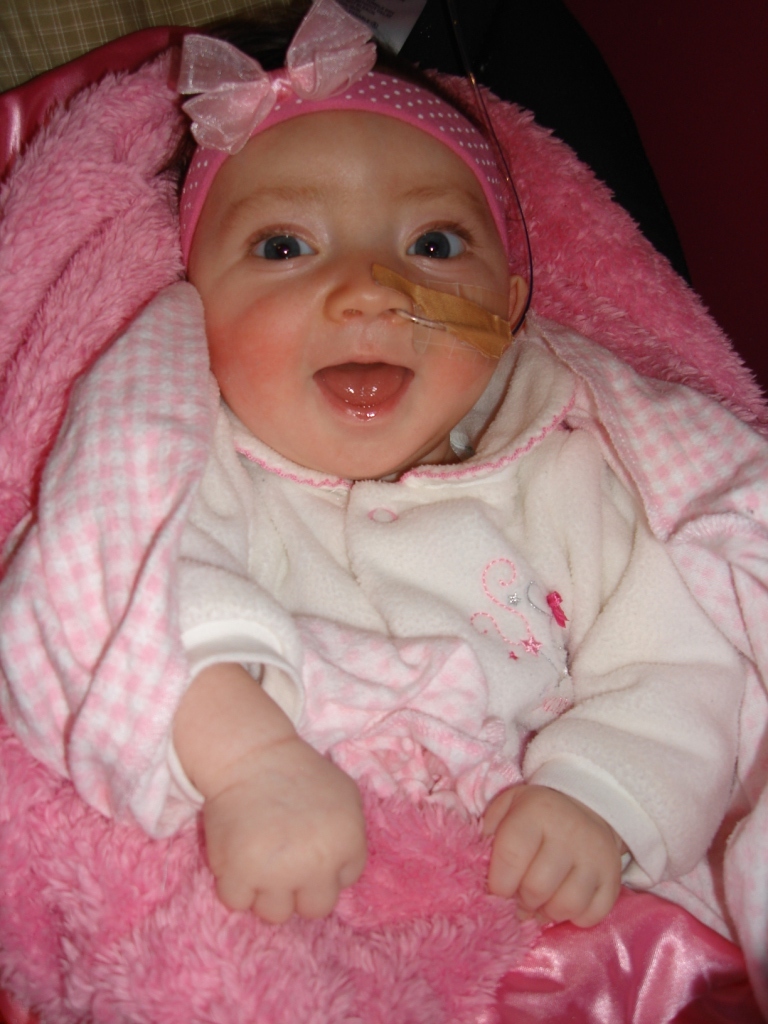 Learning to eat is a basic human skill – for our Gemma it was not so simple. This is the story of our cyber journey to Graz University in Austria – and Gemma's triumph. Within a week she was tube dependent – and we were clueless to its true meaning. It all happened so quickly - life revolved around Gemma's pump feeding her 24hrs a day.
Life with Gemma was a constant cycle of feeding lines, syringes, medications to stop the vomiting, vomiting again and the pump's "beeeeep beeeeep" every 4 hours, calling us to change the formula bottle. Nobody was sleeping in our house, I was even imagining the pump beeping or malfunctioning and then waking to run and check it all times through the night, not just when it was due.
Then Gemma was diagnosed with Kabuki Syndrome at 3 months and many months later we were surprised to find out that not many babies with Kabuki Syndrome needed to be tube fed. Gemma's doctors said that she would be tube fed until around 4 years of age – with a chance of dependency for life! This was not acceptable – we could not have this for Gemma if she was capable of eating normally – she was breast fed initially, surely she could again. We thought that if a child is hungry enough they will eat – we learnt it is not that simple.
It was by chance a family member saved a magazine article about a tube weaning program in Graz, Austria. The cost was $50,000 to travel to Austria and we were so desperate for Gemma to eat decided to go for it. When I emailed Graz University Hospital in Austria, to our amazement they assessed that Gemma was a good candidate for their Net-weaning program – it was $3,000 and from the comfort of our own home! So in March 2010 it began – our cyber journey to Austria - Gemma was 11 months old.
As Gemma's pump feeding was reduced, she experienced hunger and thirst and she was screaming all the time. She went from mostly happy and sleepy, to screaming all day and night. Attempting to feed her, met with no success, anything that actually made it into her mouth was choked on and spat out - her constant refusal was exhausting. Then there were the trips to the hospital and therapy for all the routine medical appointments, after 9 appointments in 2 weeks, the seemingly fruitless feeding attempts, lack of sleep and Gemma so unhappy we decided it was all too hard and to give up. We detailed the reasons for giving up to our cyber Professor in Austria. The wisdom from Austria seems so obvious now – we had to put all non-essential doctors appointments, surgeries, nutritionists, and therapies on hold and focus on the tube weaning if we wanted Gemma to succeed. Based on Gemma's YouTube videos, Graz was insistent Gemma had the mental capacity and skills to learn to eat, so we continued – coached via the web from across the planet. Each week we would upload YouTube videos of Gemma eating and our cyber Professor would analyse her progress and advise a course of action.
Week after week the journey continued. The rules issued from cyber space were strict – like no wiping her face, no cleaning etc just a bath after each mealtime and after each snack time – we obeyed and we cleaned and we videoed. To cut down the formula feeding meant we needed to stop the pump one hour earlier every 2 nights until finally stopping at midnight. This was a big step – stopping at midnight - no need to tend to the pump through the entire night was wonderful. No more mixing formula, no changing lines, no "beeeeep beeeeep" after midnight. During the course of tube weaning we discovered that Gemma is much smarter than we thought – she knew the pump meant food and became very excited when she could see it. But to break this psychological link we had to hide her pump out of sight and only connect her when asleep. She was also very determined - when she began eating she would refuse all the time we offered but to our continued amazement if we left the room she would eat something herself with no one around.
At last, after many months her hunger had overcome her determination not to eat. It again took a long time, but slowly Gemma began to eat and drink more each day, and finally after 6 months on the program she was off the pump and was gaining weight. No more tube feeding. No "beeeeep beeeeep" ever again. With no tube the biggest change was in her development, attached to the tube she did not move, during the weaning suddenly free of her pump she started rolling everywhere, then crawling and now pulling up to stand. Learning to eat was a rollercoaster of emotions for all of us, the joy when finally Gemma finished a bowl of food and wanted more, the frustrations at months with no progress and the low points where we doubted our cyber saviour and believed the doubters. We applied for a disability ACT quality of life grant to cover the tube weaning costs and were unsuccessful; it is still hard to believe that a child visiting their soccer hero contributes more to quality of life than learning to eat. It was a bit of a blow because there were 90 successful of greater amount so to us it meant Gemma learning to eat was way down the list. The best part of the No Tube program was not being alone, having a team of professionals to answer your questions, to advise us on what to do and to provide reassurance that everything will be fine.
Tube weaning is not easy and it is one of those things that unless you have been through it, it is hard to understand. And to those wonderful, but unseen, people in Graz - you have our eternal gratitude for believing in Gemma - and for giving her parents some tough cyber-love that kept pushing us forward when we doubted that it could be done. Thank you - go to www.notube.at to learn more.