By Misty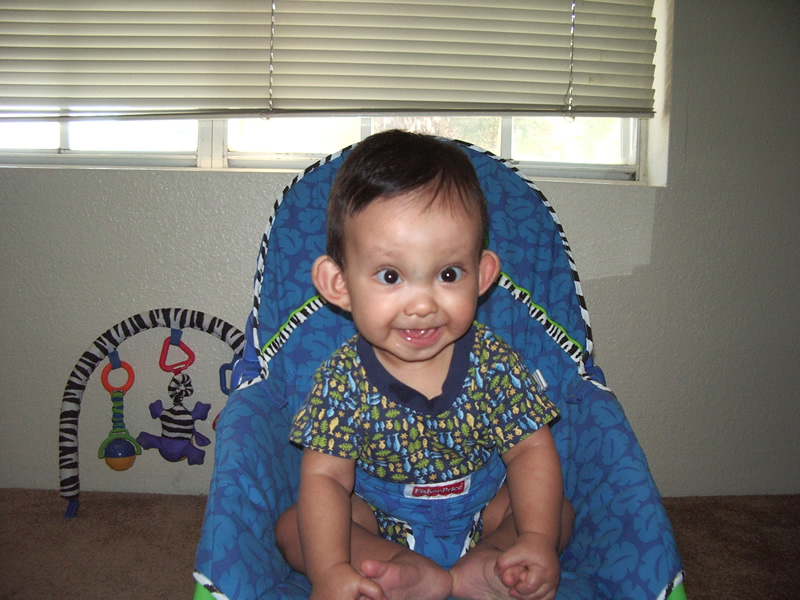 When we had CJ September 18,2004 he was 3 1/2 weeks early. CJ stayed in the NICU for about 23 days until we got bring him home. His biggest battle was learning how to eat on his own.
He had a feeding tube for about 2 weeks and then he finally got the hang of the suck and swallow motion. My husband Alex and I knew CJ was special from the very beginning. He wasn't gaining the weight he was supposed to be gaining and he had hypotonia.
CJ was about 8 months old when we met with his Geneticist who then told us she was diagnosing him with Kabuki Syndrome. Of course, we were in shock. We had neverheard of the Syndrome before. CJ's geneticist got us some information on KS and of course after reading all of that scary information we freaked out. But to tell you the truth, to this day, CJ has been blessed with very little complications. We are very thankful for that.
The only things he has trouble with is constipation, talking, vision problems (depth perception) and sensory issues such as: combing his hair, getting a haircut, brushing his teeth, and when other children touch him, not adults just children. The hardest thing for my husband and I to deal with is when adults and children make fun of CJ's big ears. It doesn't matter where we go...grocery shopping, the mall, a restaurant, the swimming pool, the park and even church believe it or not, someone always has to point and laugh.
People can be so cruel. At first is was very hard to keep our mouths shut and not blow up on people. Now, we just let it go. I'm just not looking forward to sending CJ to school alone....I really dread that day.

CJ will be 3 years old September 2007 and it has been so much fun watching him learn and grow along the way. Some of CJ's favorite things are music, playing with any kind of musical instrument, the doodlebops (tv show), dogs, dancing, swimming, being outdoors, cuddling, making people laugh, showing off the new things he has learned, being read to, popsicles and his newest watermelon. He is a very intelligent and social little boy and I can't wait to see what the future holds for him. CJ surprises me every day.

In the beginning, I used to sit around, cry and feel sorry for CJ and think how unfair it was for him to have to live a life with KS. Now, I wouldn't trade him for the world. He is so smart and such a joy to be around. I wouldn't know what I'd do if I didn't have my Kabuki Kid. I am one proud mom.